Description
Classic construction with Slash's personal touches
The Epi Slash Les Paul Standard conjures the vibe of the influential Gibson guitars Slash has used during his career. It includes a mahogany body, a AAA flame maple veneer top, and a super-comfortable Slash Custom "C"-shaped neck. The electronics consist of Epiphone Custom ProBucker pickups along with CTS potentiometers with Orange Drop capacitors. You also get color-coordinated hardware components, Slash's "Scully" signature drawing on the back of the headstock, and Slash's signature on the truss rod cover. Guitarists here at Sweetwater are genuine Les Paul connoisseurs, and they love the sound, look, and feel of this guitar.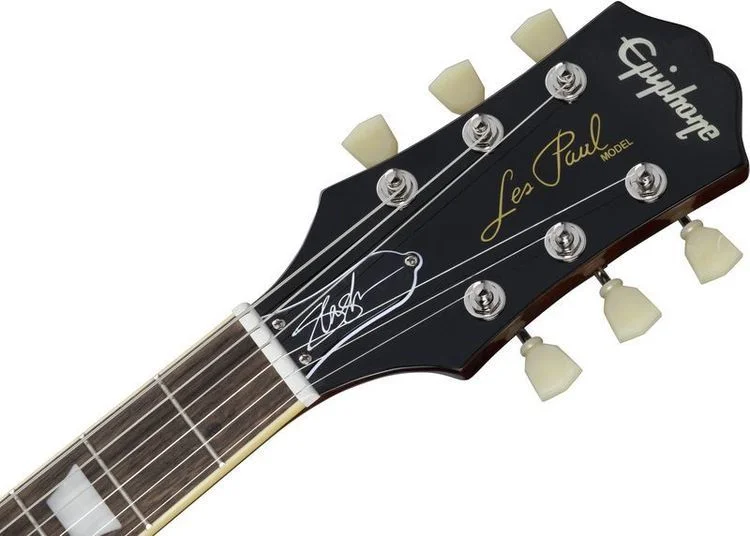 Epiphone's acclaimed ProBucker pickups
The key ingredient to the Les Paul's early success was the PAF humbucking pickups. The first of its kind to hit the mainstream, the Patent Applied For humbuckers defined the sound of a generation with their fat tone and clear response. With the price of vintage PAFs skyrocketing, Epiphone set out to create their own PAF-style pickup. Thus, the ProBucker humbucking pickup was born. Inspired by the original PAF sound, these pickups feed your appetite with full overwound tones and incredible clarity. When you plug the Epiphone Slash Les Paul Standard into your favorite British-style amplifier, you'll instantly recognize the top-hatted one's signature Les Paul punch.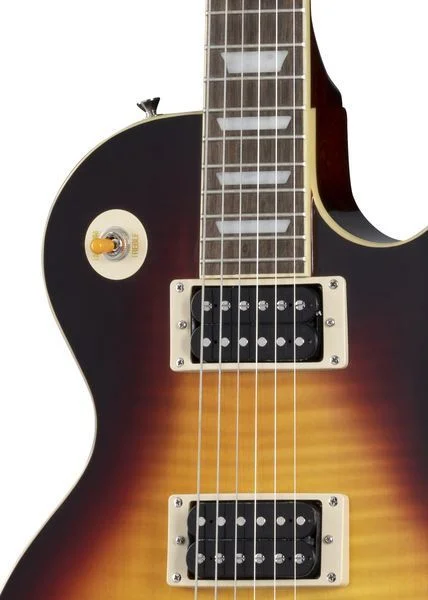 Slash: hard rock royalty
Slash is renowned as one of the greatest guitarists in rock 'n' roll history. In the waning years of the 1980s, Slash's bluesy, scorched-earth licks brought rock guitar to its knees, forewarning big changes on the horizon. While many of his peers dominated MTV with flamboyant super axes and hyper-processed guitar tones, Slash simply plugged a Les Paul into a cranked British stack, wailed away, and left an indelible mark in music history. The Epiphone Slash Les Paul Standard culls many features from his high-end Gibson signature models, providing you with a Slash-inspired solidbody electric guitar that won't drain your wallet.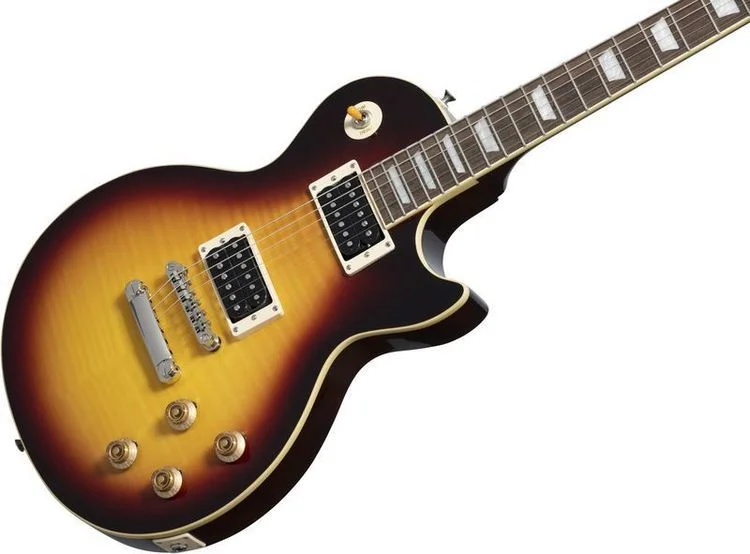 Epiphone Slash Les Paul Standard Features:
Resonant mahogany body exhibits incredible warmth and sustain
AAA figured maple veneer top ensures a head-turning look
Laurel-capped Slash-custom "C"-shaped neck supplies unbelievable playability
Custom ProBucker humbucking pickups feed your appetite with old-school PAF tones
CTS potentiometers with Orange Drop capacitors ensure spot-on vintage tone
Epiphone strap locks safeguard against axe droppage
Boasts color-coordinated hardware, Slash's "Scully" signature drawing on the back of the headstock, and a signed truss rod cover
Includes a custom hardshell case